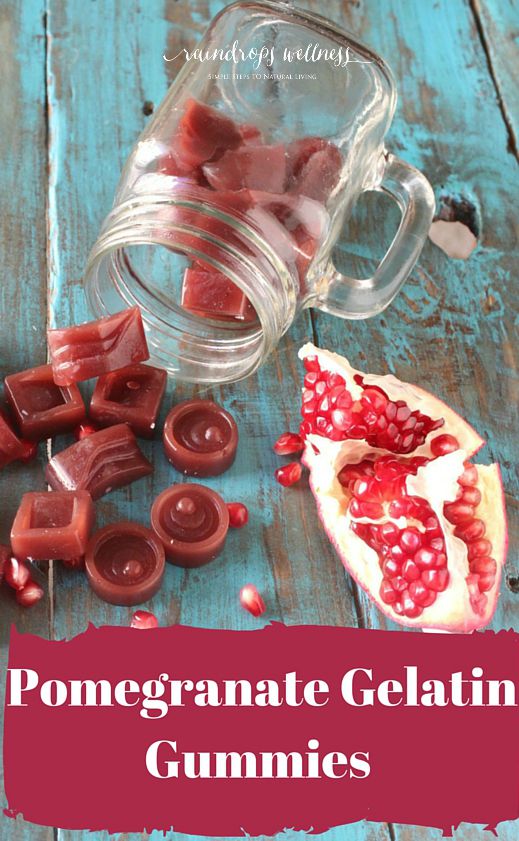 Everyone loves Gummy Bears. They're cute looking, colorful, easy to eat, come in snack bags for the kids….etc. But they're also terrible for you. They're literally globs of sugar, starch, syrup and fake gelatin. That's so gross!!
I loved them so much when I was a kid. My aunt use to bring them for us from France whenever she comes to visit. To me now I recall them tasting like medicine. Of course I had never given them to my kids. We are making all kinds of healthier versions gummies lately. With the kids around, we end up of course eating them before having a chance to to take some pictures.
This recipe is really easy to make, healthy and so yummy. My kids love it and I love that they get some extra protein and gelatin. Their friends always tease them at school with all sorts of junk, so they are so happy whenever I pack two pieces for them to have after school lunch.
How to make Pomegranate Gelatin Gummies
Ingredients
Directions
In a pan, bring the water to boil
Add the pomegranate and stevia
Cover it and let it cook on medium heat for 25 minutes
Remove from the heat and pass through a strainer to get ride of the grains
Put it back in the pan and add the gelatin and keep steering
Pour into your favorite silicone mold and store in the fridge for 1 hour ( I usually grease the silicone with some coconut oil so it will be easier to remove the gummies )
If you want to make this recipe in a much easier way you can replace the water and fruits and just use organic unsweetened pomegranate juice. Just bring the juice to boil and add 4 tablespoons gelatin and proceed to the same steps.
I would love to read some of your healthy candy recipes. Please feel free to share them in a comment.
Follow me on Instagram for some everyday inspiration. Also subscribe to my newsletter and get my latest recipes delivered straight to your email.
Be sure to PIN IT please!