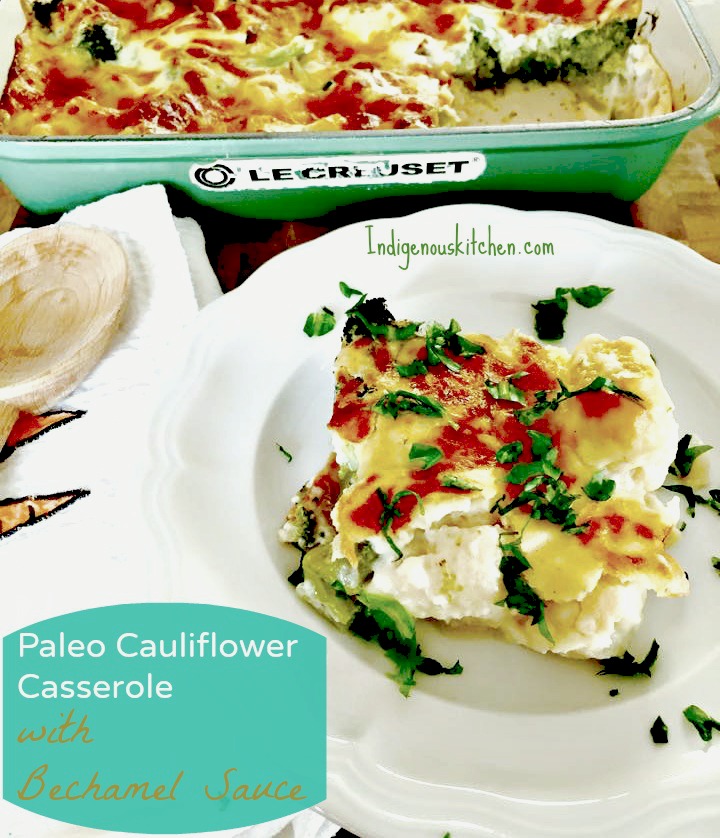 Cauliflower was not one of my favorite vegetable before discovering some really yummy recipes like the one I am sharing with you today. I love anything made with béchamel sauce. After going grain free I didn't prepare any dishes that I use to make before . I just thought to myself why not try it with coconut flour. It worked really well and was happy to enjoy the texture of béchamel with even a more flavorful taste. I actually really ended up loving it better than the one made with white flour.
Today's recipes is very easy and I am certainly sure that you will love the taste.
You can also apply the same steps below for a broccoli Casserole or even better, a combination of both cauliflower and broccoli.
How to make this paleo Cauliflower casserole with béchamel sauce
Ingredients
1 big cauliflower head or 2 small
A pinch of salt. I buy this kind
A pinch pepper
For the béchamel sauce
2 tablespoons butter. I buy this kind
2 tablespoons coconut flour. I buy this kind
1 tablespoon arrowroot powder. I buy this kind
1 cup heavy whipping cream or coconut cream (for dairy free)
1/2 cup water
salt and pepper
1 tablespoon cream cheese (optional)
1/2 cup gruyere cheese (for dairy free omit cheese)
Instructions
In a double boiler, steam the cauliflower/broccoli sprinkled with salt and pepper until it's it's tender.
Pour into a baking dish
Preparation of the Béchamel sauce:
Put butter in a pan and let it melt at low temperature
Add coconut flour and mix really quick
Add the whipping cream and keep steering
Cook for about 10 mittens at low temperature
Add arrowroot powder
Add water and salt and pepper
Let cook 5 more minutes
Add cream cheese
The sauce should not be too loose, nor too hard. If you see that there is few nibs that didn't melt put it in a food processor for few seconds.
Preheat the Oven at 350
Pour the sauce on top of the cauliflower/broccoli
Add the shredded Gruyere cheese on top
Bake for 20 minutes or until the top starts to golden.
ENJOY!
Be Sure To PIN IT