Asian Chopped Kale Salad
*PREP TIME: 1O MINS *TOTAL TIME: 20 MINS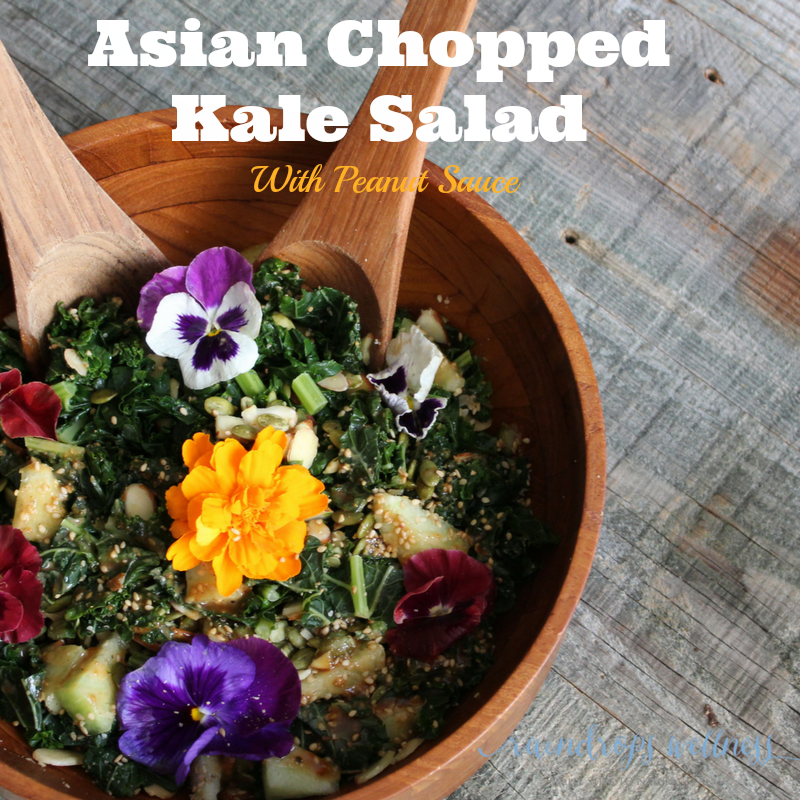 I made this salad for my Holistic nutrition school presentation and thought I would share it with you. I admit that I am not a kale lover even-though I know it's one of the best nutrient dense food I could give my body. After playing with some recipes I finally got to enjoy it and now I make this asian chopped kale salad recipe all the time. It can be made with whatever greens you have in the fridge. I love the idea of adding fruits in salads for some more sweet taste and flavor.
Asian Chopped Kale Salad Recipe
Ingredients
Dressing ingredients
1 tbsp peanut butter ( can substitute with almond butter if preferred )
5 tbsp coconut aminos teriyaki sauce ( find it here )
1 tbsp apple cider vinegar
Directions
Steam the kale for 10 minutes, drain and then chop
Place in a salad dish
Add add all the nuts and seeds
Add sliced melon
Top with peanut dressing
Decorate with edible flower
Health benefits of the main ingredients in this recipe
Kale: A brassica vegetable, closely related to collards. It's has anti-cancer and anti-inflammatory properties. it's alkalizing and supports healthy liver function and high in nutrient value. It's high in vitamin C, vitamin K, calcium and magnesium.
Almonds: Almonds are an incredibly popular tree nut. They are high in fat and highly nutritious, they are a good source of fiber, protein, manganese, magnesium. They also contain a decent amount of copper, vitamin B2 (riboflavin) and phosphorus.
Pumpkin seeds: Pumpkin seeds, also called pepitas, boost your intake of several essential nutrients. Use raw pumpkin seeds in soups, salads or sandwiches to add texture and flavor. It's high in vitamin A , has cancer fighting properties and good for type 2 diabetes.
Sesame seeds: Sesame seeds provide a number of vital minerals, including copper, manganese, magnesium, calcium and iron, according to The World's Healthiest Foods. These minerals lead to improved health in all areas, from bone density to heart health to cholesterol levels.
Honeydew melon: makes a refreshing treat on a hot summer day, but it's also a low-calorie and healthy choice any time you need to feed a craving for sweets. Whether enjoyed fresh or added to a fruit salad, honeydew delivers iron, B vitamins and essential nutrients.
Be sure to Pin It!